7th April 2017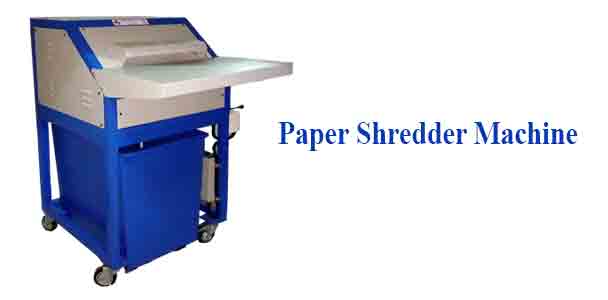 Paper Shredder Machine is an essential commodity for any business. It is more than a century since entrepreneur and prolific inventor Abbot Augustus Low from Brooklyn, New York invented Paper Shredder in 1909. However, it never got manufactured. Paper Shredder was first manufactured in Germany in 1935. It was unusual for anybody to use paper shredders till the mid-1980s.
Today there are a plethora of paper shredders available in the market in various sizes, ranging from a basket size to large models which are used by industries to shred paper as well as various other wastages. These large models are electrically powered.
If one were to buy a paper shredder machine in Mumbai the size of the shredder machine would depend on the number of sheets to be shredded. A small shredder machine can shred about 500 sheets in a day and that should suffice for a small office or for personal use. If one intends to shred more than 5000 sheets of paper per day then shredder machines would be bigger.
In Mumbai, whether it is a corporate office or a factory, paper shredder machine use is considered as an integral part of almost all types of businesses. It destroys old but sensitive documents and hence it gives essential protection from forgery. Thus it enhances the security of offices and factories. As of today when there is a call for steps to protect the environment, paper shredder machine use is an important tool to prevent piling of wastage.
There are many quality paper shredder machine manufacturers in Mumbai, Delhi, Chennai and other cities in India. They offer multiple options of paper shredder machine based on its applications and shredding capacity. Raj Electricals is a popular manufacturer of paper shredder machine in Mumbai offering range of heavy duty shredder machines. Some of the popular shredder machines from Raj Electricals are Heavy Duty Paper Shredder Machine, Heavy Duty Cross Cut Paper Shredder Machine and Industrial Paper Shredder Machine. Raj Electricals also customizes shredder machine to suit the client's requirement.